Last week I got bored and started watching this drama!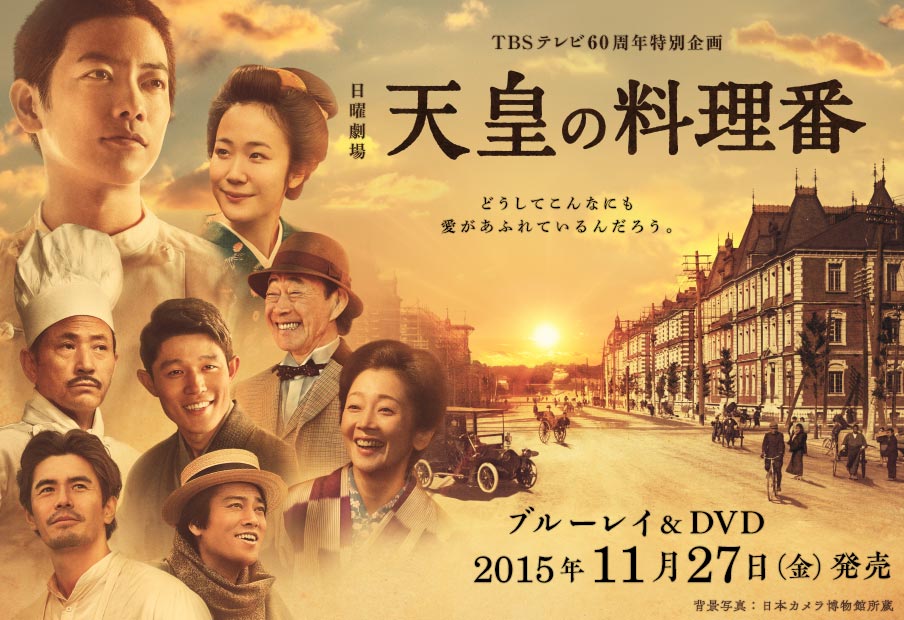 Actually, at the beginning of this drama season, I read the synopsis and didn't really care for it. One, I'm not a huge fan of dramas about cooking and two, I'm not a huge fan of historical dramas either. But I got bored, watched one episode and totally fell in love
So at first, this drama sounds like it's just going to be about Akiyama Tokuzo (Sato Takeru) becoming the Emperor's chef. But after watching it, I think the core of this drama is really the human relationships that Tokuzo forms along the way. Every single character is well-developed and believable and just so...
human
.
The subtitle of this drama 'どうしてこんなにも愛があふれているんだろう。(Why is it so full of love/why does love overflow so/however you want to translate it
)' fits so perfectly with the message of this drama! Every single episode is so fulfilling to watch and you can tell that the entire staff took great care to put together this amazing drama!
At the beginning of the drama, Tokuzo is a guy with no real ambition of his own. He tries many, many things, but gets bored of everything quickly. His parents don't know what to do with him anymore, so they marry him off into another family. His wife, Takahama Toshiko, is a very mild and shy person, but they learn to love each other. One day, during one of his runs for his job for the Takahama family, he runs into a cook for the army and eats fried cutlet for the first time and falls in love with Western cuisine...
Sato Takeru does well in the role of Tokuzo, but I really think it's the supporting characters that really make this drama shine!
[
spoilers ahead!
]
Toshiko (Kuroki Hana) is so nice and supportive of Tokuzo, even though he runs away from the Takahama family to pursue culinary arts in Tokyo. Chef Usami (Kobayashi Kaoru) is very strict and seemingly harsh, but he is actually very kind, recognizing Tokuzo's ambition to learn and his skills, but also pointing out his flaws. Shintaro (Kiritani Kenta), who also ends up in Paris to pursue his own dream of becoming an artist, is such a great friend. When Tokuzo is hesitating about going back to Japan, he gives him the final push, even though he doesn't want Tokuzo to leave. I love his lines in their farewell scene!


"I'm the one who doesn't want you to leave the most.

But I'm Japanese!

I have to hand over the best cook to His Majesty the Emperor."

There are many other awesome characters, but my favorite character has to be Shutaro (Suzuki Ryohei) aka 'Nii-yan', Tokuzo's older brother. He's sooo nice and I die every time he shows up. He is the one who believes in Tokuzo the most, giving him the opportunity to learn how to cook even when their father was pushing him to bring Tokuzo back home. He is also the one who gives Tokuzo the money he needs to go to Paris. Every single time he shows up, I am totally ready to cry
I love, love, love his letter in episode 6 and the scene in episode 8 when Tokuzo comes back to tell him that he is to be the Emperor's Chef.
I haven't been
this
obsessed with a drama in a looong time and I've been annoying everyone I know in real life to watch it too lol
I'm dying of anticipation every day waiting for the next episode. Having said that, episode 9 is airing tomorrow, so I'm preparing myself for more feels
Anyway, watch this drama everyone, you won't regret it